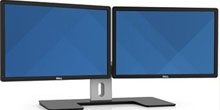 Utilising a second monitor is proven to improve your productivity. First of all what is a dual monitor setup? Computers & laptops these days can support more than one monitor – think of the second (or third) monitors as just a physical extension of your existing screen. If you are moving windows between the monitors as something disappears from one screen it appears on the adjacent screen.
The biggest advantage for anyone is increased productivity.
There have been a number of studies performed over the years that have attempted to calculate the change in productivity from using multiple monitors. According to a study done by Jon Peddie Research, productivity increases by 20 to 30% when using multiple displays.
The Pfeiffer Report from 2005 (testing the impact of large monitors and/or multiple monitors) found that improved productivity could even result in an ROI of thousands of dollars per year.
A study conducted by the University of Utah and NEC found 10% increases in productivity and 20% reduction in errors (plus reduced stress) for test workers that were using multiple monitors.
However, research also shows that productivity gains max out and eventually decline when size becomes too big.
So while the exact amount productivity increases might be up for debate, the fact that productivity increases with dual screens is certain.
Sharing data is easier
It's rare that we just work with one program open these days – yet we often lack the ability to view more than one program. If you are working from a number of data sources, having the second screen to display content means less moving windows around to access the information that you need.
Work tasks often require comparison, such as comparing different versions of a design, testing in multiple browsers, financial numbers or document revisions. In these situations it's easier, quicker, and generally more effective to compare side-by-side using two screens rather than flipping back and forth constantly.
It's Easy
Extending your computer to a second screen is actually easy, although to some people it sounds like it would be more difficult or involved than it really is. If you've been wanting to try a dual screen set up but have been putting it off, there's really no reason not to give it a shot.
Disadvantages
There are some disadvantages of having multiple screens:
Potential for Distractions
Probably the biggest disadvantage to having more than one screen is the added risk of distractions. It's easy enough to get side-tracked when you're working with just one screen, and even more so when you add to it. For some people using the second screen to keep email open all the time is a timesaver not having to re-open a window to check on new mail, for others it may be a distraction from the task in hand.
Lack of Desk Space
Unfortunately, the amount of available space of a desk can easily be a hindrance when it comes to getting set up for maximum efficiency.
Conclusion
Remember it's not about how a second screen (or big screen) can make us work faster, but rather how working on a small screen slows us down. Remember the desktop screen on your laptop (or PC) is a metaphor for your physical desktop. If your desktop was replaced with something the size of an A4 piece of paper how hard would that be to work efficiently? Very.
Can we afford to be slowed down in our work?
Given the lower cost of monitors these days, and the number of hours we are often in front of them the ROI is huge even when taking the lower end of the productivity gains into account.
All these studies demonstrated that using only a single display — especially if it's a small laptop display — can really be an anchor that drags on your productivity. Using an extra monitor can help you to more quickly and easily do your daily computing tasks.
Beyond this empirical data, the anecdotal benefits of using an extra monitor are legion on the internet.
Finally, people enjoy having an extra monitor: And happy employees are productive employees.
In fact, if you are still sceptical we are so certain that you will benefit from using a second monitor, particularly if you currently only use a laptop screen, that we will come and set one up for you to use for a couple of weeks – if you don't like it we will take it away. No cost to you. How can you loose with that?
References:
Dell completed a whitepage showing the benefits:
http://www.dell.com/downloads/global/products/monitors/en/dual_monitors_boost_productivity_whitepaper.pdf
Pfeiffer report
http://www.pfeifferreport.com/Cin_Disp30_Bench_Rep.pdf
So if you're in need of some help with planning some upgrades, or even just some free friendly advice, get in touch with us, 6-370 8093.
To discuss how Tech Solutions can help call us on 0800 878 878 or email office@techs.co.nz.